eNewsletter
electrical digest newsletter Issue 2 May 2012
Details

Published: Thursday, 24 May 2012 09:59
Welcome to the electrical digest Editor's newsletter featuring the latest news and featured products from the industry. For more of the latest stories and product information read them on our website – www.electricaldigest.co.uk or read the latest issue of our magazine using the link above.

---
Latest News:
► Eaton to Acquire Cooper Industries to Form Premier Global Power Management Company

Eaton Corporation and electrical equipment supplier Cooper Industries plc today (21st May 2012) announced they have entered into adefinitive agreement under which Eaton will acquire Cooper in a transaction that will significantly increase the capabilities and geographic breadth of the combined company's power management portfolio and electrical business.
---
► UNDER CONTROL

Kenny Berrie, technical manager at diesel generator specialist, Dieselec Thistle, discusses the complex control systems that the company has designed for New South Glasgow Hospital, the largest ever standby Power installation in Scotland.
---
► KNX Here, Now and Everywhere

Whether you are designing or a whole new building or refurbishment, or starting with a single floor or department, KNX makes sense, argues Stephen Payne, KNX Systems Manager for Theben's UK subsidiary, Timeguard Ltd.
---
► 37 Million Brits Need to Get Energy Smarter

37 million (76%) Brits are missing out on vital savings of up to 4 per cent on their energy bills as they ignore the benefits of smart meters, according to new research from energy company, E.ON, which marks the first anniversary of its Smart Metering Centre of Excellence.
---
yylighting For all the latest lighting industry news visit the lighting digest
digest
---
► Eaton's New Wiring Accessories Combine Versatility with Style

Stylish modern design, combined with exceptional versatility and durability are the hallmarks of the new family of wiring accessories which has just been launched by Eaton's Electrical Sector.
---
► 'Green'university opts for Escot energy sub-metering system

Escot, a clip-on sub-metering system by Marshall-Tufflex Energy Management, is making easy work of monitoring the energy consumption of Manchester Metropolitan University's (MMU) environmentally-friendly Crewe campus in a drive to better inform the facility and its students about energy usage and enable it to further reduce its carbon footprint.
---
► NEW SENIOR MANAGEMENT APPOINTMEN​TS SET TO SPEARHEAD APOLLO'S GROWTH IN THE EMEA REGION

Apollo Fire Detectors Ltd has made two new appointments to its EMEA Board of Directors, demonstrating the company's commitment to further growth in the region.
---
solar digest For all the latest Solar PV industry news visit the solar digest
---
► DECC FIT Installations week ending 13th May 2012

The initial installation numbers for the week ending 13th May 2012 show 912 installations in that week compared to 1,585 for the week ending 6th May 2012.
---
► Get Your MITs on Megger's New Insulation Testers!

Megger's new high-voltage insulation resistance testers (IRTs) offer exceptional versatility in a compact, rugged and light unit that weighs little more than half as much as its predecessors.
---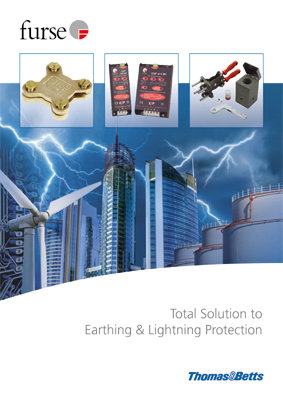 ► Total Solution Product Catalogue

Covering the entire Furse range of earthing and lightning protection, electronic systems protection and FurseWELD products and accessories. Also includes overviews of requirements for effective structural protection and electronic systems protection, technical design services, plus an introduction to BS EN 62305 and its impact.

Request a copy here
---
electrical digest Sponsorship Opportunity
The electrical digest offers a great opportunity to be a Sponsor of our newsletter. Our industry sector newsletter is emailed weekly to industry specifiers, installers and buyers who get the very latest industry news and product information direct to their desktop. So if you want to reach new customers and also generate brand awareness, contact us now for full details.
Site news: We are pleased to announce that we are registered members of ABC - the Audit Bureau of Circulation

Advertise with the electrical digest magazine
Do you have a new product or service that you wish to advertise?. For as little as £150 you can include an A4 full colour advert and featured article in our next magazine. Email us today for more information. This email address is being protected from spambots. You need JavaScript enabled to view it.
---
© 2012 electrical digest